PR Newswire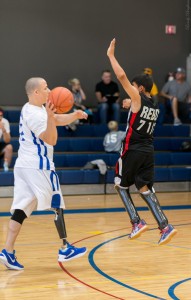 TEMPE, Ariz., Nov. 13, 2015 /PRNewswire-iReach/ — PROTEOR USA announces the launch of its RUSH Kid® pediatric foot designed to meet even the most extreme needs of active child amputees. This highly dynamic, ultra low profile foot is far superior to any other pediatric foot on the market today.
Active pediatric amputees have specific and advanced needs regarding their prosthetic foot/feet. As Huffington Post[1] published on November 2nd "Equipment – prosthetic limbs, pacemakers – designed specifically for children often lag five years to 10 years behind new technology for adults. Parents are pushing for that to change."
Now, PROTEOR USA, makers of the RUSH Foot® collection, offers the ultimate solution to address the void of a non-breakable pediatric prosthetic foot. With the introduction of the RUSH Kid®, the frustrating days of broken carbon prosthetic feet are gone. The company has developed the highly-dynamic and extremely durable RUSH Kid® pediatric foot to keep up with even the most active children. It is the only ultra low profile pediatric foot on the market today with a dynamic toe-off and the ability to handle the extreme loads that children place on their prosthetic feet. This amazing innovation is an all-terrain, all-weather solution that also boasts reduced socket, knee and hip pain, as reported by patients. Finally, a pediatric prosthetic foot that allows kids to be kids.
Stephen Hernandez is an active, athletic 14 –year-old bilateral below-knee amputee who wears the RUSH Kid® pediatric foot. As he emphasizes, "In the past, I would break one to two carbon feet a month. As a result, I couldn't do the things I loved… play basketball, run, or basically anything that was high impact. When I was first fitted with the RUSH Kid® foot, I felt the difference immediately. It was more comfortable, more stable and I had much more balance. Since being on the Kid® Foot, I have played in a two-day basketball tournament, I am trying out for the basketball team and have run my best mile to-date! Most importantly, I have done all this without breaking a foot!"
The positive results that the RUSH Kid® pediatric foot delivers, extends well beyond the patient. As Stephanie Hernandez, sister of Stephen, wrote to PROTEOR USA, "ever since Stephen's had his RUSH® feet, he has become unstoppable. He's so much more comfortable on the court, he's able to push himself to new limits and, most importantly, he's able to truly be himself. I've seen a change in his confidence, self esteem and his overall outlook in life. And for that alone, I can't thank you all enough." What more can anyone ask for? Now available in sizes 19-21cm.
For further information and to order the RUSH Kid® pediatric foot visit https://rushfoot.com or call 855.450.7300 today.
[1] http://www.huffingtonpost.com/entry/smaller-medical-devices-for-children_56376ad3e4b00aa54a4ea996
Media Contact: Holly Sanger, PROTEOR USA, 480-361-1303, hsanger@abilitydynamics.com
News distributed by PR Newswire iReach: https://ireach.prnewswire.com
Photo – http://photos.prnewswire.com/prnh/20151111/286635