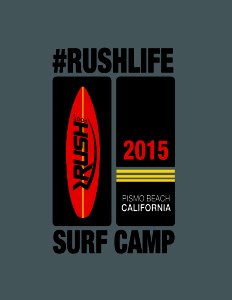 PRLog – March 20, 2015 – PISMO BEACH, Calif. — Bringing together an incredible group of amputee extreme sports athletes, an impressive list of expert surf instructors, and a dedicated staff of Pismo Beach locals was a mere formality for US Amputee Surf Champion Rodney Roller who is the brainchild behind the first annual #RUSHLife Surf Camp sponsored by PROTEOR USA, makers of the RUSH®Foot.  The RUSH Foot® is a dynamic prosthetic foot that is 100% waterproof and can handle the extreme effects of sand and saltwater exposure, making it the perfect choice for amputee surfers.  Roller, the founder of AmpSurf and co-founder of Operation Surf, has been sharing the stoke of surfing with amputees and the physically challenged for the better part of a decade and a half.
With 16 amputee extreme athletes representing skateboarding, wakeboarding, snowboarding, and fat biking, Rodney has amassed the largest #RUSHLife extreme sports camp to date.   PROTEOR USA likes for their RUSH Foot® users, that specialize in a particular extreme sport, to host a camp centered around their area of expertise to allow other amputees to learn and experience that sport first-hand.
The hype surrounding the #RUSHLife surf camp has a lot to do with Roller's expert team of instructors… a group including surf legends Mike Downey, professional surf trainer and coach and Don Bigelow, surfboard shaper, instructor for the Mauli Ola Foundation, artist and photographer with 37 years of water safety instruction under his belt; professional surfers Josh Baxter, professional longboarder; Matt Morgan, professional shortboarder for Lost Surfboards & Malu Eyewear; and Bobby Friedman, pro tandem surfer; as well as other noted surfers like Bingo Framer & Rube Escalante.
Rodney has chosen to honor the late surfing legend Buttons Kaluhiokalani who loved working with amputee surfers as well as teaching surfing to those with other physical disabilities.  Rodney and Buttons forged a friendship years ago when Rodney and Buttons both competed in and won their respective divisions in the Dukes Fest in Hawaii.  Later, when Rodney was asked to host the surfing portion of the Veterans Administration's Summer Sports Clinic lead he invited Buttons to help. Over 5 days, Buttons, Rodney and a team of 10 instructors taught 100 disabled veterans to surf.  Rodney was indelibly stuck by Buttons' love for seeing the disabled and physically challenged feel the stoke of surfing first hand.
Come on down to The Sea Crest Resort in Pismo Beach on Saturday, April 11th and Sunday, April 12th from 8am-3pm to check out the camp and see why RUSH Foot®, North County Prosthetics and Zada Surf School are sponsoring this amazing event as well as why the Oceano Lifeguards, San Clemente Lifeguards and Cayucos Lifeguards have dedicated resources to help our expert instructors with water assistance for the athletes.
About PROTEOR USA and the RUSH Foot®
Based in Tempe, Arizona, PROTEOR USA combines the best in next-generation prosthetic foot expertise and design innovation to deliver the most natural walking and mobility experience possible for amputees. Amputee quality of life and natural mobility are at the heart of the RUSH Foot® Collection designs. https://rushfoot.com/
About North County Prosthetics
Based in Atascadero, San Luis Obispo and Arroyo Grande and led by Certified Prosthetist John Hollingsead C.P.O., North County Prosthetics have been keeping amputees outfitted with quality prosthetics since 1992 and are a Central Coast prosthetics company that carries the RUSH Foot® Collection from PROTEOR USA.  http://www.northcountyprosthetics.com/
About Zada Surf School
Based in Pismo Beach and led by US amputee surf champion, Rodney Roller, Zada Surf School is the premier surf school located on the central coast of CA. Offering private, semi-private and group rates, Rodney and his certified surf instructors ensure not only that students learn to surf, but that they learn to respect the ocean, beach and the surrounding environment as well as the rules of etiquette while in the lineup.  http://www.zadasurf.com
Media Contact
Michael Phares, Surf Camp PR & Marketing Director
8055508273
http://www.prlog.org/12437733-amputee-extreme-athletes-to-invade-pismo-beach-411-412-for-the-1st-annual-rushlife-surf-camp.html