A True Hero
Sgt. Matthew Pennington has a story to share. It's a story of adversity, grit, and the marvels of modern technology.  It's a story he shares with average Americans, wounded soldiers and amputees.
Matthew joined the Army in 2001. Five years later, he was on his third deployment in Iraq, a member of the U.S. Army's elite Airborne Corps. He had been shot at and survived the detonation of five roadside bombs.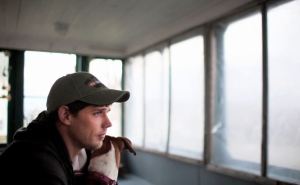 Unfortunately, the sixth one got him.
It was April 26, 2009, and Matthew was driving the lead vehicle in a convoy winding its way through Iraq. He approached a menacing, "one-way-in, one-way-out" road, so he drove his vehicle ahead to assess the situation, which ended up taking him straight into an ambush.
Small weapons fire rang out. An improvised explosive device detonated. Shrapnel ripped through his legs. Matthew was bleeding profusely, and the rest of his team was knocked unconscious.
A less-experienced soldier might have hidden, waited for reinforcements, hoped to survive. Adversity was nothing new to Matthew, and he chose to demonstrate grit.
He secured the vehicle, administered his own tourniquet and waited for help.
When help arr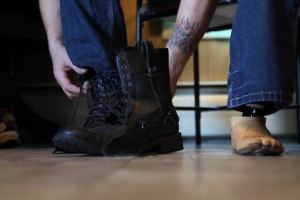 ived, Matthew was transferred to a field hospital, where his leg was amputated. Then he was transferred to Walter Reed Army Medical Center.  
Surrounded by other amputees whose limbs had fallen victim to the war in Iraq, Matthew made a decision about his future: He wouldn't waste any time.
"I was ready the minute I hit Washington," he said. "The second day I was there I stole a wheelchair and snuck out to the physical therapy unit."
He saw what was possible, and decided that he would not let his battered legs keep him from doing the things he loved to do. Soon he was fitted for a new prosthetic leg and began walking with crutches. After a year, he returned home to Maine—but life isn't always easy for those returning from war.
Chronic skin problems made his prosthetic uncomfortable. Maine's soggy, wet ground was difficult to navigate, and he was forced to forego many of the activities he enjoyed prior to losing his leg.
"When I left the hospital, I had severe foot drop in my right, 'good' leg," he said, describing a condition that causes the forefoot to drop uncontrollably, making it difficult to walk. "They told me I would never be able to get past it, but through exercise and grit I regained the motion in my ankle."
Physical issues weren't the only issues Matthew faced. Unable to hunt, fish, run and exercise the way he had prior to being injured, he fell into a depression, suffering from Post-Traumatic Stress Disorder (PTSD). Then, while in Dallas seeking medical treatment, he connected with the Coalition to Salute America's Soldiers, an organization that helps returning soldiers get their civilian lives back.
He told his story. He got help for his PTSD. He regained his confidence. He began working for the organization as a public speaker. Emotionally, he was back, even scoring the leading role in an award-winning short film, "The Marine's Guide to Fishing."
But something was missing: The prosthetics with which he was fitted didn't allow him to live the active life he was used to. Physically, he didn't feel capable of running, ice fishing, hiking and walking on the uneven landscape of his native Maine.
"I was limited by my prosthetic. It prevented me from doing the things I wanted to do," he said. "I had to be constantly on the lookout for branches, soft ground and other hazards. My prosthetics were too heavy and the action was too stiff."
Then he found the RUSH Foot® on the Internet.
He talked to his prosthetist, who found out the RUSH Foot® was covered by the VA, and was quickly fitted with it.
"The RUSH Foot® drastically improved my quality of life," Matthew said. "It's light weight. It's easy to use. It's the 'everyfoot.'  Now, with the RUSH Foot®, there isn't anywhere I can't go—whether through the thick woods of Maine or anywhere else. I don't have to worry about terrain. I can just get out and go."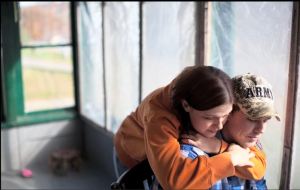 And go he does. He recently ran a 5K mud race to raise awareness for the Coalition. He's back to lifting weights, hunting, fishing and going anywhere he wants. 
So today, when he's serving his country by sharing his story of adversity, grit and determination, he makes sure to talk about the marvels of modern technology and the RUSH Foot®. He tells other amputees. He tells people who know amputees. And, most importantly, he tells other wounded soldiers that technology can give them their lives back.
It's a story he loves to tell and one that people love to hear.